Management
Hans Peter Schneider (*1960)
has been the managing director of M3B GmbH since 2001


Contact/secretary's office
Tanja Evers
Tel: +49 (0)421 3505-225
Fax: +49 (0)421 3505-15225
evers@messe-bremen.de
Supervisory board
MESSE BREMEN | CONGRESS BREMEN | ÖVB-Arenais a division of M3B GmbH owned by the City of Bremen which was established on 1 January 2018. The supervisory board chairman is Kristina Vogt, minister of Economics, Labour and Europa. The deputy chairman is Kerstin Kreitz, department head at the Ministry of Finance.

Further members are Ursula Carl, managing director Atlantic Grand Hotel Bremen and senior chairman of the Bremen e.V. transport association and Birgitt Rambalski, chief of protocol in the senate chancellery of the Free Hanseatic City of Bremen.

Employee representatives in the supervisory board include Gabriele Frey, project manager WISSENSWERTE at MESSE BREMEN & ÖVB-Arena, Markus Günsch, market supervision at the depot of the Großmarkt Bremen (city's central market), and Andrea Kosack, dispatch advisor at the Ratskeller – Weinhandel since 1405.

Exhibition departments and contact persons
Internal trade fairs and congresses


Andrea Rohde
Unit director
+49 (0)421 3505-377
rohde@messe-bremen.de


Events
Bremen Classic Motorshow
fish international
Fisch & Feines
GASTRO IVENT
LEBEN UND TOD
WISSENSWERTE
Internal consumer fairs


Kerstin Renken
Unit director
+49 (0)421 3505-353
renken@messe-bremen.de


Events
BOTTLE MARKET
hanseBAU
HanseLife
ReiseLust
CONGRESS BREMEN and guest events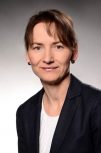 Kordula Grimm
Unit director
+49 (0)421 3505-337
grimm@messe-bremen.de


Own events
DEWU Deutscher Wundkongress/Bremer Pflegekongress
ITHEC
NEURO
Symposium Intensivmedizin + Intensivpflege
ÖVB-Arena


Andreas Adolph
Director
+49 (0)421 3505-235
adolph@messe-bremen.de


All events
ÖVB-Arena
Jobs
Current vacancies at MESSE BREMEN are listed on the M3B GmbH website. Not found what you are looking for? Look again soon as we are always updating our vacancies.
Display current vacancies
Sustainability
MESSE BREMEN & ÖVB Arena is aware of its joint responsibility in protecting the environment and climate. A contribution is, for example, the installation of solar power systems on the roofs of Halls 4 to 7. They produce 750,000 kilowatt hours of electricity each year which corresponds to about 25 per cent of the venue's energy requirements. Green electricity is used for the remaining sum.
A combined heat and power plant also produces heat with reduced CO2 emissions.

From 2006 to 2016 energy consumption decreased from 4.4 million to 3.5 million kilowatt hours despite significantly more events being held here. In 2019 the last event halls were fitted with LED lamps which means all halls including the ÖVB Arena are now energy efficiently lit.
In comparison to other exhibition centres in Germany, MESSE BREMEN is still relatively new: Halls 4 to 6 only opened in 1997 and Hall 7 completed the venue in the early 2000s. Since then, seven halls including the ÖVB Arena offer 40,000 square metres event space.

In the beginning, the venue was used mainly for hire business. However, today 110 events are held in MESSE BREMEN & the ÖVB Arena each year of which 60 are trade fairs and congresses.

MESSE BREMEN is very popular with external event organisers and one of the reasons for this is its central location and excellent accessibility. In addition, the adjoining outdoor area offers an extra 100,000 square metres. The 16 conference rooms in the Congress Centrum Bremen – also directly adjoining – offer space for between 15 and 1,600 participants.

Of the venue's own events, it is the nine-day HanseLife consumer trade fair which will soon have 80,000 visitors per year which is the most popular. Likewise, the fish international, jazzahead! and the Bremen Classic Motorshow also attract an international audience.
---